Becquerel Prize 2022 - Nomination of Candidates until 28.4.2022
All members of the photovoltaics community are invited to nominate candidates for the 2022 Becquerel prize !
The members of the Becquerel Prize Committee are pleased to invite you to take part in the nomination process for the year 2022.
The Prize will be awarded in September 2022 during the 8th World Conference on Photovoltaic Energy Conversion (WCPEC-8).
The EU PVSEC will host the WCPEC-8, bringing together the global PV community in the beautiful city of Milan, Italy, from 26th to 30th of September.
-- The call for the 2022 nomination is closed --
About the Alexandre Edmond Becquerel Prize
The Alexandre Edmond Becquerel Prize was established in 1989 by the European Commission at the occasion of the 150th anniversary of Becquerel's classical experiment in which he discovered the photovoltaic effect. Its purpose is to honour scientific, technical or managerial merit in the development of photovoltaic solar energy, attained over a long period of continuous achievements, or very exceptionally, for some extraordinary invention or discovery. It is primarily a European Award but not restricted exclusively to European citizens. The Prize is awarded periodically to a single individual. The Prize cannot be shared nor given to an institution or team.

The Becquerel Prize Committee selects the individual to be honoured with the prize. The committee is formed by:
(a) all the past awardees,
(b) the Chairperson of the Solar Energy Conference where the prize will be awarded,
(c) one representative of the European Commission,
(d) the organiser of the conference where the prize will be awarded.

Becquerel Prize 2021
The 2021 prize is awarded to Ulrike Jahn

The Becquerel Prize 2021 was awarded during the European Photovoltaic Solar Energy Conference and Exhibition (EU PVSEC).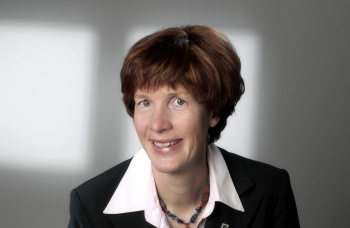 Ulrike Jahn has worked her carrier long for the development of PV technology, with a focus on reliability and performance that new electricity generation technologies must demonstrate to be accepted in the market. Her activities have evolved from working for the 1000-Roof PV systems program in the 90s, to module reliability characterization and PV system performance assessment, up to the definition and establishment of methodologies for good practice to reduce technical risks during the implementation and working life of PV systems. She became not only one of the world leading experts, collaborating with 80 experts all around the world, but also one of the face in the field and thereby a role model for young scientists and engineers.
Ulrike Jahn is currently a senior researcher at VDE renewables in Alzenau. From 2008 to 2020, she was with TUV Reinhland in Cologne. Prior to that, she worked with ZAE Bayern and with ISFH. Since 2010, she has being coordinating the international operation Task 13 of the IEA PVPS program dealing with the performance assessment, operation and reliability of PV modules and systems.
Alexandre Edmond Becquerel
The Becquerel Prize is named after Alexandre Edmond Becquereli (24 March 1820 – 11 May 1891).
Alexandre Edmond Becquerel was born in Paris and was the assistant and later the successor of his father, Antoine Cesar Becquerel, at the Museum National d'Histoire Naturelle.
In 1839, at the age of 19, he created and analyzed the world´s first photovoltaic cellii,iii in the laboratory of his father. The photovoltaic cell consisted of two electrodes in an acidic solution, separated by a thin membrane. He illuminated one of the electrodes. Especially when the electrodes were coated with AgCl or AgBr, he could observe a significant generation of electricity. Since he could exclude that this effect was due to temperature effects (induced by the illumination), he concluded that the light itself was the reason for his observation. Furthermore Becquerel already discovered the influence of the spectrum of light on the photovoltaic effect; he noted that blue light yielded the highest current generation.
Alexandre Edmond Becquerel was also very active in other research related to the effects of light like photography and phosphorescence. In 1867/68 he published the important book: "La lumière, ses causes et ses effets (Light, its causes and effects)".
________________________________
i not to be confused with his son Henri Becquerel who received the Nobel Prize in Physics for the discovery of radioactivity
ii A.E. Becquerel, "Recherches sur les effets de la radiation chimique de la lumiere solaire au moyen des courants electriques", Comptes Rendus de L'Academie des Sciences, Vol. 9, pp. 145-149, 1839; also Annalen der Physik und Chemie, Vol. 54, pp. 18-34, 1841.
iii A.E. Becquerel, "Memoire sur les effects electriques produits sous I'influence des rayons solaires", Comptes Rendus de L'Academie des Sciences, Vol. 9, pp. 561- 567, 1839; also Annalen der Physik und Chemie, Vol. 54, pp. 35-42, 1841. (You may find a translation of publication iii into English here )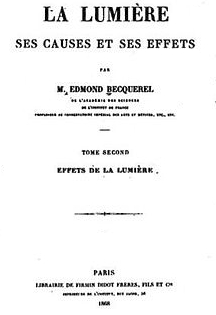 History of the Becquerel Prize

Find out more about the history of the Becquerel Prize here


Bylaws of the Becquerel Prize Committee
Please download the bylaws of the Becquerel Prize committee here